Tempdrop vs. OvuSense Fertility Trackers: Which Is Best for You?

By

Liza Blake

Reviewed by

Kelly Hendrickse
Published September 13, 2023.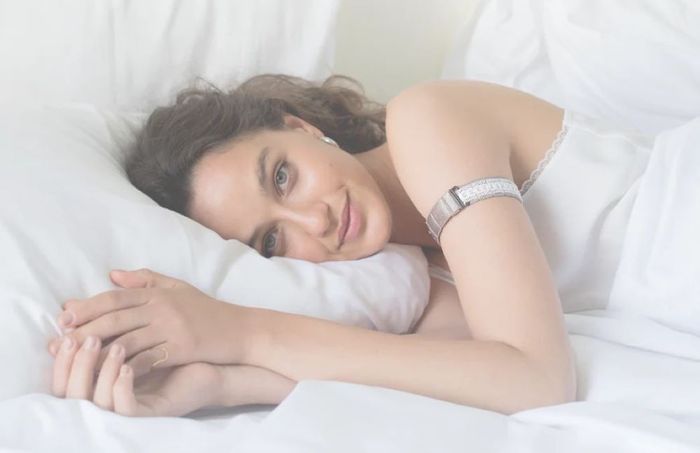 As you're trying to become pregnant, you're likely wondering how to increase your chances of conceiving. We live in a wonderful world of technology, much of which helps all different parts of our lives. Many women start to track their cycles more closely when they start trying to conceive. Naturally, tracking your basal body temperature (BBT) can be a large part of this process since it can help you confirm ovulation, and the single most important part of conceiving is identifying the days leading up to ovulation, then confirming ovulation. Identifying your fertility window is crucial since this can vary from woman to woman, with observed ovulation days spread across 10 days in a 28-day cycle, according to a study.
So what technology can help you become pregnant successfully? Let's look at two wearable fertility trackers, Tempdrop and OvuSense, and compare their features and user-friendliness so you can make a decision about which will help you most.
Tempdrop vs. OvuSense at a Glance
| | | |
| --- | --- | --- |
| User Experience | Simple, wearable device on the arm, easy to sync, and syncs with a variety of other charting apps | Vaginal thermometer (ovusense), easy to sync, chart is difficult for some to interpret |
| Main Features | Measures BBT overnight Free manual charting in app | Measures core body temperature and temperature overnight Predicts ovulation to help with timing intercourse |
| Fertile Window Interpretation | Option to use fertility predictions or turn them off to interpret your own data | Uses prediction and confirmation algorithms to better predict ovulation windows (an 8-day period). Shows fertile window from cycle two onwards if you received confirmed ovulation in the previous cycle |
| Suitable for Irregular Cycles or Changing Sleep Patterns | Yes | Yes, as long as you have a regular sleep pattern for a week or more and wear the sensor for a minimum of 6 hours while you sleep |
| FDA Regulation | FDA registered | FDA registered |
| Price | $215 | $279 annually or a subscription option starting from $35 monthly |
| Insurance Coverage | HSA + FSA eligible | HSA + FSA eligible |
Tempdrop Fertility Tracker
So, let's start with the basics: "What is Tempdrop?" Tempdrop is an overnight wearable BBT tracker, with a companion app where you can track your entire cycle. So, how does Tempdrop work? You wear it on your upper arm while you sleep, then wake up and sync it to the app in the morning. I love that it gives me the ability to manually annotate my cycle, rather than simply relying on an algorithm.
You can identify your fertile window, ovulation, and luteal phase—all of which provide data needed to make decisions about my fertility. Tempdrop is one of the most flexible wearable ovulation trackers out there, working for any schedule including moms waking regularly, shift workers, and those who struggle to keep a regular sleep schedule.
Pros
Can use your choice of

fertility awareness

method

Great for shift workers

Free app with manual interpretation

No strict waking time

Lasts a long time (sensors last up to 3+ years)

Works for irregular cycles (PCOS, etc.)
Cons
Requires armband for overnight wearing

Not everyone is comfortable having their data tracked in an app
OvuSense Fertility Tracker
OvuSense is an overnight wearable ovulation tracker, and it uses core body temperature to predict ovulation. They have two sensors: the OvuFirst and the OvuCore.
The

OvuCore

is worn in the vagina throughout the night, and in the morning you get your temperature reading. It takes a temperature reading every 5 minutes.

The

OvuFirst

is worn on the wrist or arm and also gives you a temperature when you sync in the morning. It takes your temperature every 5 minutes and uses that data to calculate your basal body temperature for the night.
Pros
Easy to sync with the app

Works for irregular cycles (PCOS, etc.)

Free nurse consultation after the first few months is included
Cons
Predicts your cycle, which is unreliable

App requires an additional subscription fee

Must be replaced every year

Vaginal sensor can increase likelihood of vaginal infection
Tempdrop vs. OvuSense: User Experience
How to wear/use Tempdrop?
Tempdrop is one of the best femtech devices I've used (and I've definitely used a few). You put it on before going to sleep and turn it on, wearing it over the large axillary artery right below your armpit. After wearing it for the night, you take it off, turn on your phone's Bluetooth, and open the Tempdrop app. After connecting them to sync (which takes about a minute), you have a BBT reading in the app. You can choose to chart in the Tempdrop app for free, or you can move into your favorite charting app.
How to wear/use OvuSense?
OvuSense works by placing the OvuCore device in your vagina each night. In the morning, you take it out and sync it with the OvuSense app. It provides you with data on your fertility status. Similarly, the arm/wrist sensors get held against your skin with a detachable armband. Note: Do not use the OvuSense OvuCore device during your period, for hygiene and safety reasons.
Tempdrop vs. OvuSense: Main Features
Tempdrop takes thousands of data points overnight while you sleep, including sleep tracking. It then uses that data to interpret when you were most restful throughout the night, which is indicated through your BBT. Your chart is easy to share with your partner or medical practitioner using the Tempdrop app.
In the app, you can view some basic interpretations of your cycle, including ovulation day and fertility window, as well as real-time insights by tracking cervical mucus. You can also add more key data to the app to help you better track your fertility, such as symptoms, cervical position, ovulation tests, potential disturbances, and more. It's great for those who have irregular cycles, PCOS, or work irregular shifts. For fertility awareness method (FAM) advocates, there's a manual mode you can opt for so you can choose the method that works best for you.
OvuSense tracks your temperature by taking a reading every 5 minutes while it's being worn. It allows you to track your cycle, period, medications, and pregnancy. There's also a partner provider app where you can share your data with your provider and flag data for them to look at in real time. It works well for those who have irregular cycles (including those with PCOS), though the fertile window predictions may be slightly variable.
Winner: Tempdrop
Tempdrop vs. OvuSense: Price
Tempdrop only requires a single payment ($215) upfront for the device and it is FSA and HSA eligible. There are a few different options including an extended warranty and return period or insurance that have additional fees of $40 and $89, respectively. You can also choose to subscribe to the premium Tempdrop app to gain more features, such as sleep tracking, Tempdrop academy (short courses on fertility awareness), and fertility interpretation.
OvuSense has a monthly subscription, either $35 per month for the Advanced Fertility Monitor or $279 annually. They offer a money-back guarantee, though there are some very specific requirements including having used it for 90 nights straight (excluding days you were on your period), being under 42 years of age, and not having an obvious ovulatory temperature rise. OvuSense is also FSA and HSA eligible.
Winner: Tempdrop
Which Is Better Overall?
I love my Tempdrop since it's incredibly easy to use, there's no recurring fee, and I'm confident about the data I get each night. Looking at all of the points, I find it's likely the best choice between Tempdrop and OvuSense for most users. Tempdrop uses daily data to help interpret your cycle accurately and is generally more comfortable long-term. OvuSense, while focused on prediction and confirmation algorithms, can get fertility windows slightly off, plus can require vaginal insertion, which may not be what everyone is comfortable with.