Tempdrop vs Ifertracker Fertility Trackers: Which is Best for You?

By

Liza Blake

Reviewed by

Kelly Hendrickse
Published September 13, 2023.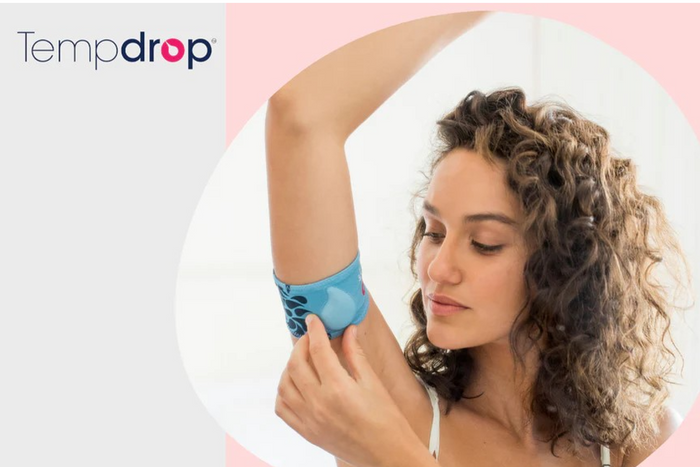 Trying to conceive can be a stressful time for many. It can become a chore, especially if you're trying for more than a couple of months. And many people are. It's not abnormal to try for 5-7 months, even up to a year, before you become pregnant.
But you can simplify your life and increase your chances of conceiving at the same time by looking into femtech that can help you conceive. Your temperature fluctuates throughout your cycle, due to the variations in hormones present. After ovulation, your basal body temperature (BBT) rises due to an increase in progesterone. Using a wearable basal body thermometer can simplify tracking your BBT and help you identify when ovulation has taken place. There are two fabulous wearables out there: Tempdrop and iFertracker.
Both are HSA and FSA eligible, so let's dive into some of the other similarities and differences between the two devices.
Tempdrop vs iFertracker at a Glance
| | | |
| --- | --- | --- |
| User Experience | Simple to wear and sync Worn using a band on your upper arm near the armpit Battery lasts up to 6 months on average | Worn using double-sided adhesive on your upper arm near the armpit Turns itself on and off at certain temperatures Battery must be changed every 45-60 days |
| Main Features | Free charting app with manual interpretation or opt for automated interpretation Stores up to 24 hours (3 x 8 hour sleep sessions) of data at a time | Simple user experience for a device that turns on/off by itself Stores up to 10 nights of data |
| Fertile Window interpretation | Tempdrop clearly marks your fertile window in the app, confirms ovulation and provides predictions about cycles up to 6 months in the future | Marks your fertile window in the app and gives you some predictions about upcoming cycle events |
| Suitable for Irregular Cycles or Changing Sleep Patterns | Yes | Recommended for regular routines |
| FDA Regulation | FDA registered | Exempted from FDA |
| Price | $215+ depending on options | $129 + $40 refill sticky patches every 60 days (alternatives to official sticky patches can be purchased) |
| Insurance Coverage | HSA + FSA eligible | HSA + FSA eligible |
Tempdrop Fertility Tracker
What is Tempdrop and how does Tempdrop work?
It's an overnight wearable ovulation tracker and BBT thermometer. You put it on your arm, turn it on, and then in the morning you simply sync it to the app. The app uses an algorithm to take the thousands of data points it gathered and determine when your body is most restful, which is when your body experiences its lowest resting temperature (also known as BBT).
The Tempdrop app allows you to manually chart your cycle, with the ability to add additional fertility markers to your chart. If you would rather have the app interpret the data for you (recommended if you're trying to conceive), the app will give you information about where in your cycle you are, such as your fertile phase or luteal phase.
It's been with me through nights on call and still given me a great temperature, and it's known to be great for those of us who work shifts precisely because of the algorithm. Plus, if you'd like to share your chart with your partner or doctor, it's straightforward to do so.
Pros
Works with any sleep pattern

Free app with manual charting

Battery typically lasts 6+ months

Syncs data to a variety of other popular charting apps
Cons
Monthly subscription for premium version of app

Only stores 24 hours of sleep data
» Find out when and how often to have sex during ovulation
iFertracker Fertility Tracker
The iFertracker is an overnight wearable fertility tracker that measures BBT. It turns itself on, and it stores up to 10 nights of data. Once you sync the device to your phone via Bluetooth, the app will give you notifications about your cycle phase, like notifying you about your fertile window, which is the most important part of your cycle when trying to conceive. It also gives you a preview of what it expects from your cycle, like when your ovulation is.
Because the iFertracker is always partially on (checking for a temperature to turn it fully on again), the battery dies every 45-60 days and will need to be replaced fairly often. The sticky patches used to keep the iFertracker in place while you sleep will also need to be a recurring purchase, and they seem to go out of stock quite regularly.
Pros
Easy, wireless syncing

Stores up to 10 nights of data

Turns on/off automatically
Cons
App can be buggy and is only available for iOS

Adhesive causes irritation for some users

Battery only lasts 45-60 days
Tempdrop vs iFertracker: User Experience
How to wear/use Tempdrop?
Tempdrop is worn on your arm using a fabric band while you sleep. It's easy to put on, and the device sits over the axillary artery just below the armpit. In the morning, you remove the device and sync it with the Tempdrop app.
From there, you can keep the data in the Tempdrop app, where you can see basic interpretations like your fertile window and confirmed ovulation, or you can move the temperature to your favorite charting app or a paper chart.
How to wear/use iFertracker?
The iFertracker is very similar to Tempdrop in wearing experience. Rather than a band, the iFertracker is held in place by a double-sided adhesive patch. Most users find it comfortable, but it may irritate your skin if you're particularly sensitive.
Once it's in place for the night, it automatically turns on as it hits a specific temperature. When you wake in the morning, you simply sync it with the companion app and it'll turn itself off when the temperature lowers enough. Some users report the app being somewhat buggy, and it's limited to iOS only.
Winner: Tempdrop
Tempdrop vs iFertracker: Main Features
If you're looking for the most flexible basal body wearable thermometer, Tempdrop works great for those with irregular cycles, PCOS, working shifts, or waking regularly with children throughout the night. Its exclusive algorithm gives you an accurate BBT every night, even with these variable situations. In the app, you can see basic interpretations showing you your fertile window and confirming ovulation.
The iFertracker is very similar to Tempdrop. It also syncs to its partner app via Bluetooth. It does some basic interpretation of your cycle and notifies you during your fertile window so you can plan intercourse to conceive.
Winner: Tempdrop
Tempdrop vs iFertracker: Price
Is Tempdrop Worth It?
Tempdrop has a single upfront cost of $215 (though it regularly goes on sale, and you can use an affiliate code for further discounts). You may choose to subscribe to the premium app to gain access to further insights on your cycle or sleep data (you can try this out for free for 2 months).
Is iFertracker Worth It?
iFertracker is less expensive upfront, only $129, but it has an ongoing price for the double-sided sticky patches (about $40 for a 60-day supply).
Both Tempdrop and iFertracker are HSA and FSA eligible.
Winner: Tempdrop
» Want to improve your fertility awareness? Learn about these easy steps here
Which is Best for You?
Both options are fairly comparable in most departments, but Tempdrop wins out for me. It's comfortable, I don't have to buy something essential for it to work every two months, and I trust the algorithm's ability to find my BBT.
The app also allows me to chart any other symptoms I want to without switching apps, and Tempdrop's support team is very responsive if you ever have problems or questions.